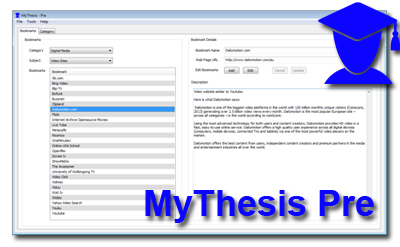 MyThesis Pre – Bookmarking Management Tool
MyThesis Pre – is an internet, web page, bookmarking management tool. Windows Vista, Windows 7 and Windows 8 (not for Linux or Mac) Don't be fooled by the simplicity of this program. Simplicity meaning it is easy to use. MyThesis …
Description
MyThesis Pre – is an internet, web page, bookmarking management tool.
Windows Vista, Windows 7 and Windows 8 (not for Linux or Mac)
Don't be fooled by the simplicity of this program. Simplicity meaning it is easy to use.
MyThesis Pre is an invaluable, information and knowledge gathering tool that will possibly place you in a position of knowledgable authority.
This program will give you the leading edge when studying, researching and learning a variety of subjects.
You're probably saying "Web browsers have bookmarking or favourite storing functions, so why would I need a bookmarking program".
That is a valid question.
But what if you are doing online research on a variety of subjects?
swimming pool maintenance, water ph, chlorination, cleaning water and pool, how to change filters
Home maintenance
Council by laws, traffic, neighbours, trees etc
Taxation laws for business, online stores
computer programming languages, their functions and methods
computer repair methods
web site design, HTML5, CSS3, Javascript, AJAX, PHP, CMS, MySQL
electronics
Astronomy (planets, satelites, meteors, optical telescopes, radio telescopes)
Herbs, how to grow them, medicinal uses, cooking
medical issues, diagnosis, remedies, medical interventions
Cooking, Italian, Greek, Thai, Chinese recipes
Hobbies
If you are like me and you love to learn and have a variety of subjects that grab your attention, eventually you will end up with thousands of bookmarks.
How could you manage so many bookmarks?
That's why I (Daryl Williams) created MyThesis. That's the delema I faced while studying on the internet. My web browser just wouldn't cope with hundreds of bookmarks and it was hard finding them.
MyThesis helps you:
break down your bookmarks into categories and sub-categories (subjects)
take you to your saved bookmark web pages
You can copy and paste notes from the web pages into your bookmarks description for future reference
Eventually you will view these bookmarks as invaluable gems because it may take you years of researching, discovering and documenting a massive knowledge base
Why the name MyThesis Pre
In academic terms, "a thesis or dissertation is a document submitted in support of candidature for an academic degree or professional qualification presenting the author's research and findings".
So MyThesis is the name I gave this bookmarking program due to its ability to assist an individuals quest for studying, learning, researching and documenting a knowledge base for future referencing.
Pre, refers to before or prior to the availability of a professional version of the software.
By purchasing MyThesis Pre you are providing finacial support for the development of MyThesis Pro and other management tools for film, video and audio production.
I would like to thank you in advance for purchasing MyThesis Pre.
Thank you.