Fandangle Productions was originally a Sydney NSW Australia, community television production business owned by Daryl Williams.
The community television program was called "Fandangle TV", which show the best Blues bands performing in Sydney, which aired on the community television station Channel 31 6.30pm every Saturday night. Originally, this website was the voice for "Fandangle TV". Fandangle productions is now developing, maintaining and exapnding on its in-house business, website, media, video and audio production management tools.
Funding R&D (Research & Development) by Daryl Williams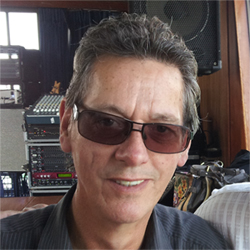 Hi there, I'm Daryl Williams the founder of Fandangle Productions. In the past I produced short flims with the hope of becoming a feature film director. My lifes journey led me to community television production where I met some lovely people and eventually produced my very own television program "Fandangle TV".
Now you could say, I have strayed away from video production and found an interest in developing software that any media, sound, video and independent film producer would love to get their hands on. This meant searching for and learning a programming language that would fill the needs of media producers.
Down the track in time, I developed some really great in-house tools that simplified my production needs. A lot of my time was consumed in developing these tools, testing them and then making further moderfications. Then reallity tapped me on the shoulder. I realised online services such as websites, video production, software development, business and administration expenses requires a revenue aquisition model for the sustainability of any business. The success of a business in layman's terms basically says "you need money to stay alive and survive".
So I decided I will now offer for sale my in-house tools that will assist you as a webmaster, media, sound, video, television and independent film producer in the management of your website,business, online store, audio, video, television and film production assets. I am also developing other tools that will assist not only you but the community in general.
I will also produce eBooks as educational tools to assist you in further understanding the new, ever expanding world wide web Digital Media era.
The sustainability of Fandangle Productions is dependant on your financial support. By purchasing my in-house software and ebooks you will help Fandangle Productions develop more tools that will meet your production requirements, needs and wants.
I would like to thank you for your support for keeping Fandangle Productions alive.
Thank You!